Although it may not receive the same level of attention as the ecosystems provided by Amazon, Google, and Apple, Samsung's SmartThings is an extremely robust and adaptable system. Although the number of available devices is smaller than you'll find for Alexa or Google Home, there are still lots of large brands here including Arlo, Bose, Sonos, Nest, Hue, Innr, Lifx, Belkin, and Ring.
It is a smart home platform, but it is also the term that Samsung uses for its own compatible devices. This means that it is built inside the company's phones and laptops… and even some of its refrigerators.
SmartThings is structured around a hub, which also interacts with Zigbee and Z-Wave so you can hook up third-party devices. The SmartThings phone app is compatible with both iOS and Android. All your smart devices connected to it can be controlled via Google Assistant and Alexa as well as Samsung's own Bixby.
Check out the 5 essential features of Samsung SmartThings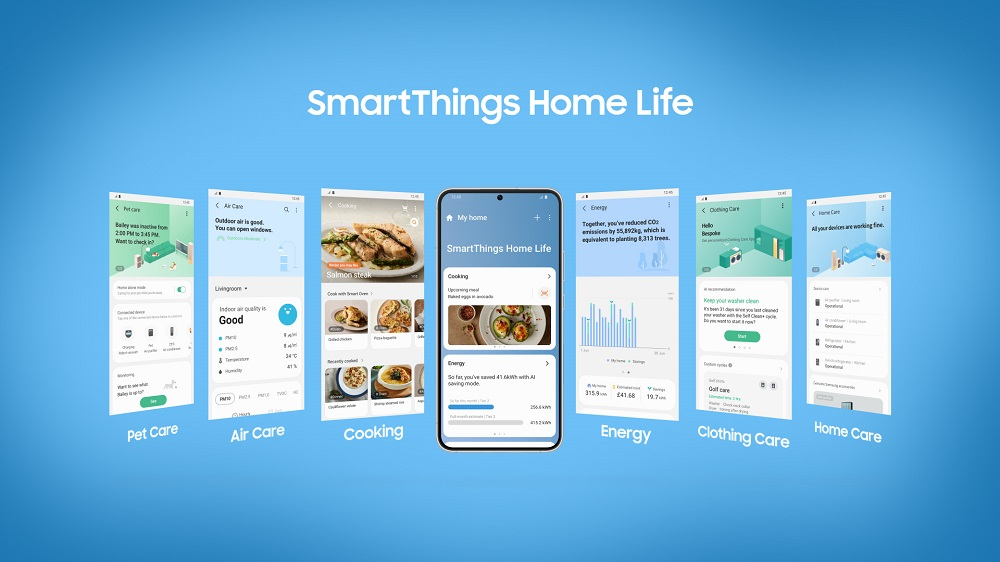 1. SmartThings Home Care
SmartThings Home Care is a comprehensive home appliance management service that monitors connected home appliances to deliver AI diagnosis and solutions, in the event of problems. It also reminds users of home appliance pattern information and information about accessory replacements and purchasing links.
2. SmartThings Pet Care
With the help of SmartThings Pet Care, it is simple to ensure the wellness of your pet no matter where you are. You can access the camera in your Jet Bot AI+ vacuum, which is intended to recognize your pet and make it easy for you to watch a live broadcast of your pet. You can also play your favorite music with Jet Bot AI+, with the playlist for maximum relaxation having been created by a veterinarian, and all of this can be done from within the SmartThings app.
3. The SmartThings Kitchen
Make your kitchen experience more pleasurable. The SmartThings Kitchen Service cuts down on the amount of time spent cooking and the stress associated with it. It does this by gaining an understanding of your requirements, at which point it makes recommendations for personalized recipes, develops a weekly meal plan, makes grocery shopping easier, and provides an interactive experience.
4. Clothing Care using SmartThings
Providing assistance so that you can get the most out of the Samsung clothes care devices that are connected to SmartThings.
Find out how to take better care of your clothes and get personalized advice on how to do your laundry that fits your routine.
Using SmartThings Clothing Care, you can keep track of the supplies you need to wash your clothes.
5. The SmartThings Air Care System
The SmartThings App offers a comprehensive Samsung air quality management solution called SmartThings Air Care.
It provides individualized recommendations for air control after doing an assessment of the indoor and outdoor air quality in each room and displaying the results visually.
It displays trends in indoor air quality and outdoor air quality in order to assist in identifying and responding to problems pertaining to the air quality inside and outside of the house.
Using SmartThings Air Care, you can ensure that the air quality in your home remains high.
6. The SmartThings Energy System
The SmartThings Energy service is an Internet of Things (IoT) service that enables easy monitoring of the electricity consumption of connected home appliances, lowers monthly electricity costs, and makes home appliances more energy efficient.