The highly anticipated iPhone 15 Pro and Pro Max models have finally arrived, showcasing a plethora of remarkable design alterations that are sure to captivate iPhone users worldwide. One of the most noteworthy aspects that has undergone significant improvements is the build quality. You can also check the launch details of the standard iPhone 15 and 15 Plus.
Design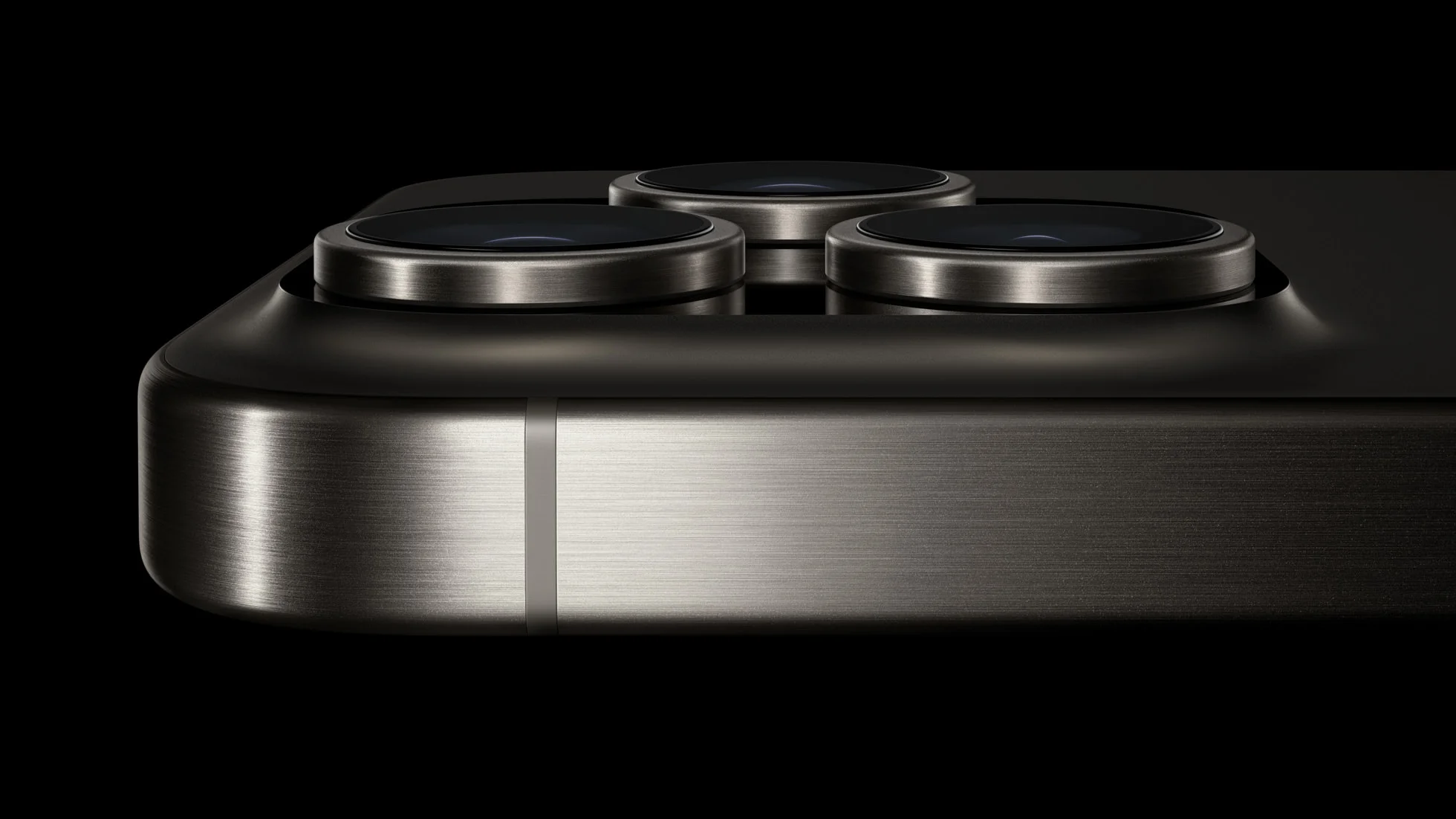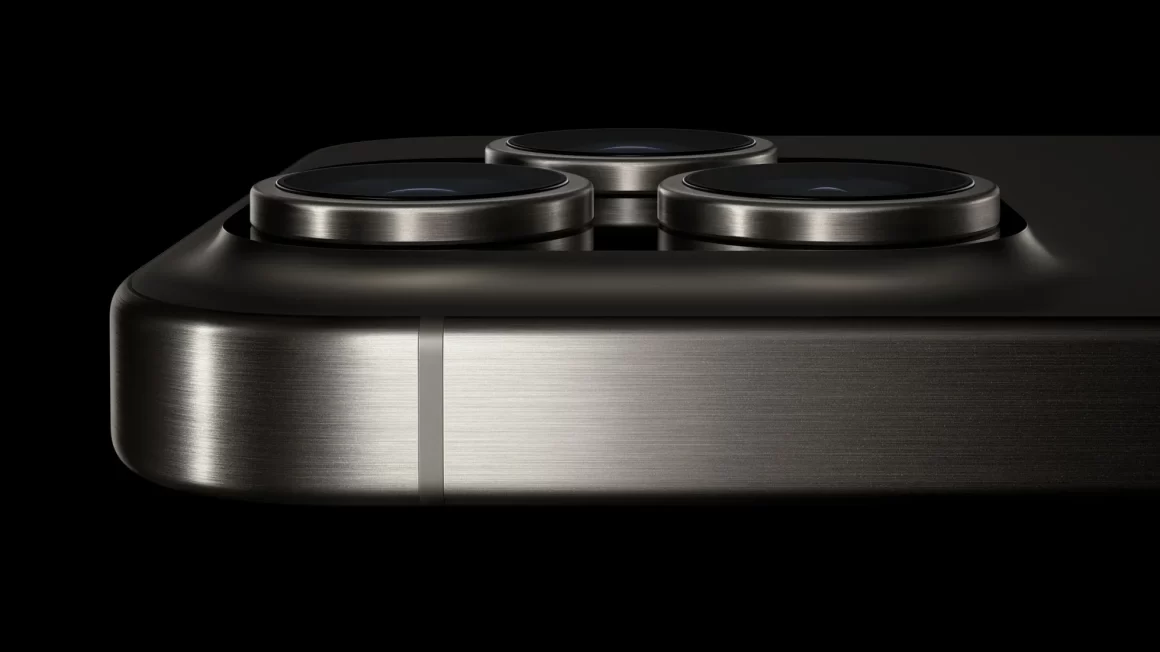 Apple has made a groundbreaking by opting for a titanium alloy chassis, a departure from their traditional stainless steel construction. When pitted against its sturdy counterpart, steel, Titanium emerges as the clear victor, boasting a myriad of advantages that make it a force to be reckoned with in the realm of materials. One of its most notable attributes is its exceptional strength, which surpasses that of steel by a considerable margin. Additionally, Titanium's feather-light nature sets it apart, making it an ideal choice for applications where weight reduction is of utmost importance.
A new feature is the solid-state Action button, a revolutionary replacement for the conventional mute switch. Apart from serving as a mute button, it can also boast an array of customizable functionalities. Users have the ability to program a series of commands, such as launching the camera app, activating Shortcuts or accessibility features, initiating a voice memo, and much more.
Display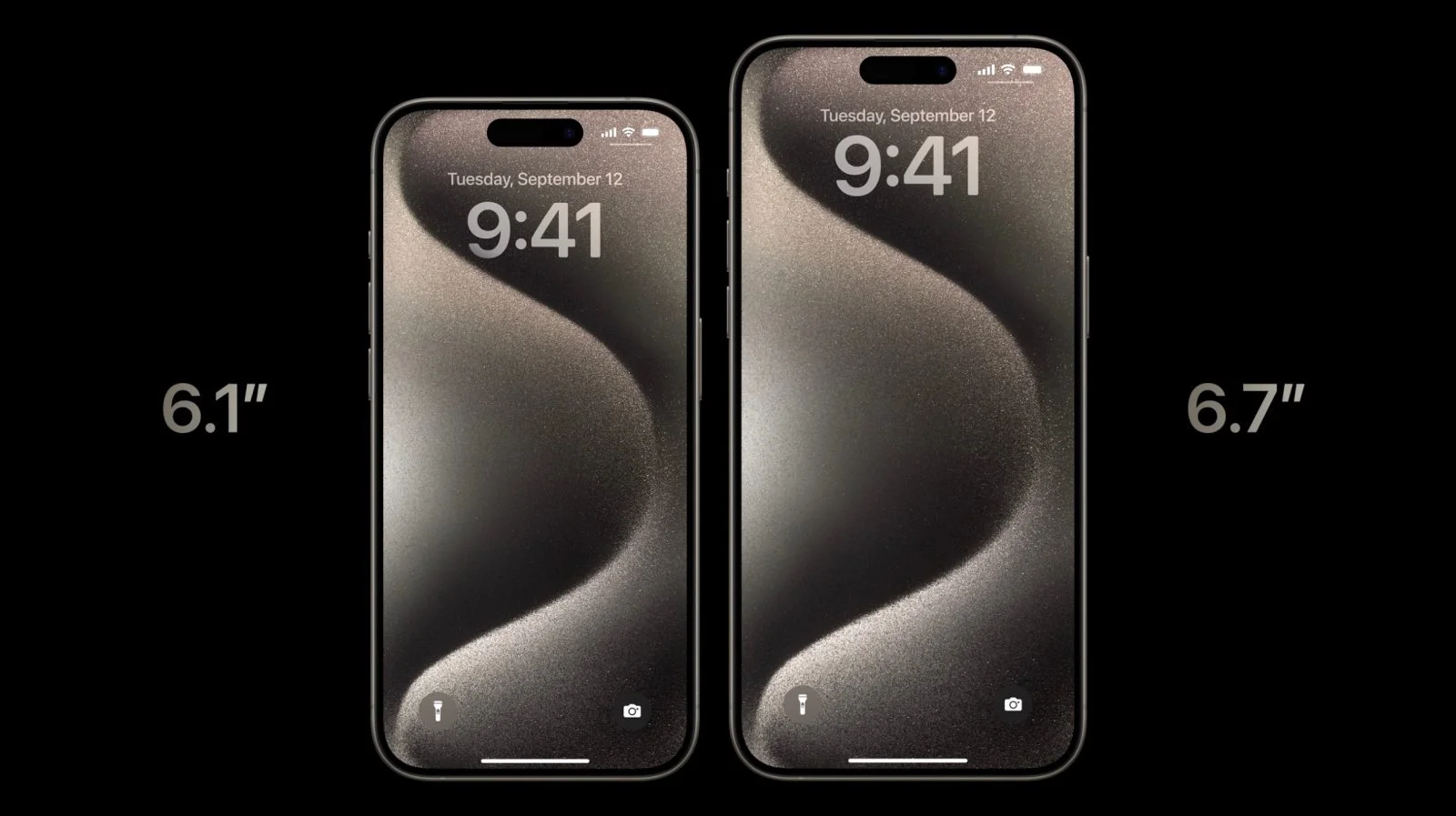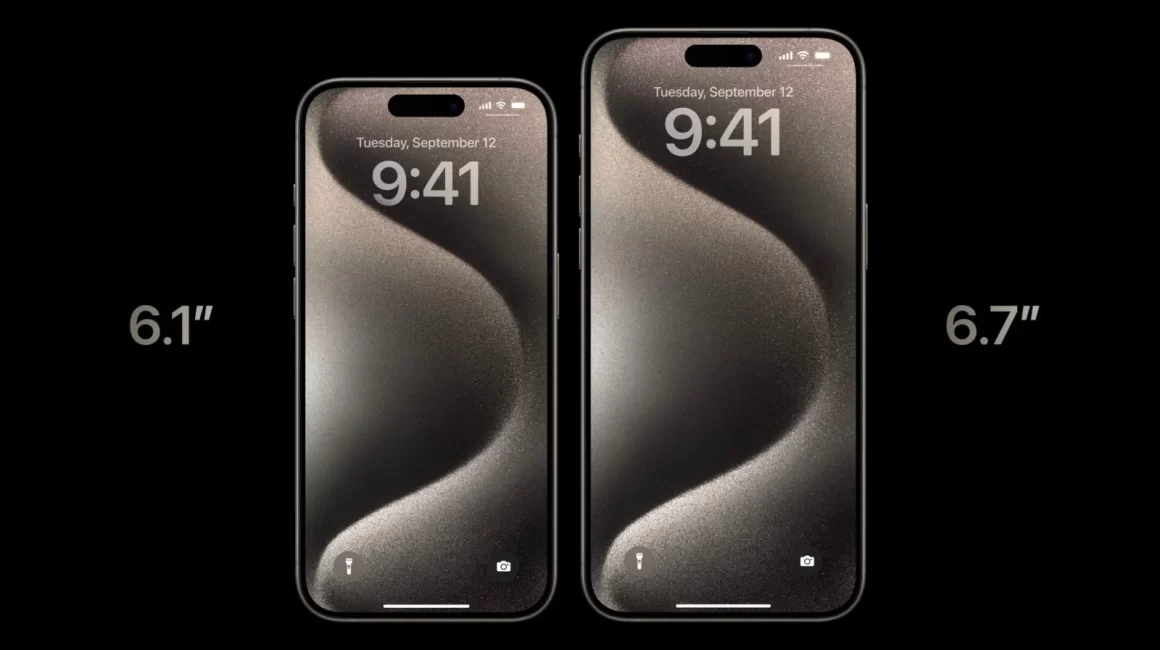 Apple's latest offerings, the iPhone 15 Pro and Pro Max, continue to impress with their stunning OLED displays. The Pro variant boasts a 6.1-inch screen, while its larger sibling, the Pro Max, takes it up a notch with a generous 6.7-inch display. However, these displays are not just larger, but also brighter, thanks to Apple's relentless pursuit of technological excellence. One notable enhancement lies in the LTPO controllers, which have been optimized for improved efficiency. This means that users can expect a more power-efficient display, resulting in extended battery life and a smoother overall experience.
Apple's commitment to pushing the boundaries of display technology is evident in its pursuit of thinner bezels, further enhancing the immersive visual experience. Both devices boast an impressive adaptive refresh rate, thanks to their ProMotion technology, ensuring buttery-smooth visuals and seamless scrolling. Additionally, users can enjoy the convenience of an Always-on display, allowing them to effortlessly glance at important information without having to wake up their devices.
Performance
The iPhone 15 Pro and Pro Max have received a substantial upgrade in the form of the A17 Bionic chip – the pioneering marvel that is crafted on an unprecedented 3nm process. Prepare to be astounded by its remarkable processing prowess, as it delivers a substantial boost in performance while simultaneously enhancing efficiency like never before. The device boasts a cutting-edge 6-core processor and an equally impressive 6-core GPU, surpassing the graphics capabilities of its predecessor, the A16 chip, by an additional core. The device boasts an impressive 8GB of RAM, providing users with ample memory to handle multitasking and resource-intensive applications. Additionally, it offers a generous onboard storage capacity of up to 1TB, ensuring that users can store a vast amount of data, media files, and applications without worrying about running out of space.
Camera
As for the cameras, one of the most notable enhancements comes in the form of an upgraded 48MP IMX803 main camera, which promises to deliver exceptional image quality even in challenging low-light conditions. The Pro Max's telephoto lens boasts an impressive 5x optical zoom capability, allowing users to capture stunning shots at a focal length of 120mm.
Coming late this year, Apple is poised to revolutionize the world of video capture, taking it to unprecedented heights. One of the standout features coming to the iPhone 15 Pro series is the groundbreaking capability to record spatial video, a game-changer powered by the remarkable Apple Vision Pro technology. Get ready to immerse yourself in a whole new dimension of video recording like never before.
USB C, seamless data transfer
Both of these devices boast the convenience of charging via the cutting-edge USB-C port. This remarkable feature is further enhanced by its ability to support lightning-fast data transfer speeds of up to 10Gbps when paired with the optional USB3 cable. Both of these devices are powered by the highly anticipated iOS 16 operating system, ensuring a seamless and intuitive user experience.
Emergency Satellite
Expanding upon the already impressive Emergency SOS via satellite functionality, the iPhone 15 Pro and iPhone 15 Pro Max take things up a notch with the introduction of Roadside Assistance via satellite. In a groundbreaking development, users in the United States can now seamlessly connect with AAA, the nation's premier roadside assistance provider, even in the most challenging situations where cellular and Wi-Fi connectivity are non-existent. This game-changing feature empowers users to effortlessly access the unparalleled services offered by AAA, ensuring that car troubles are swiftly resolved, regardless of the circumstances.
Colors and Price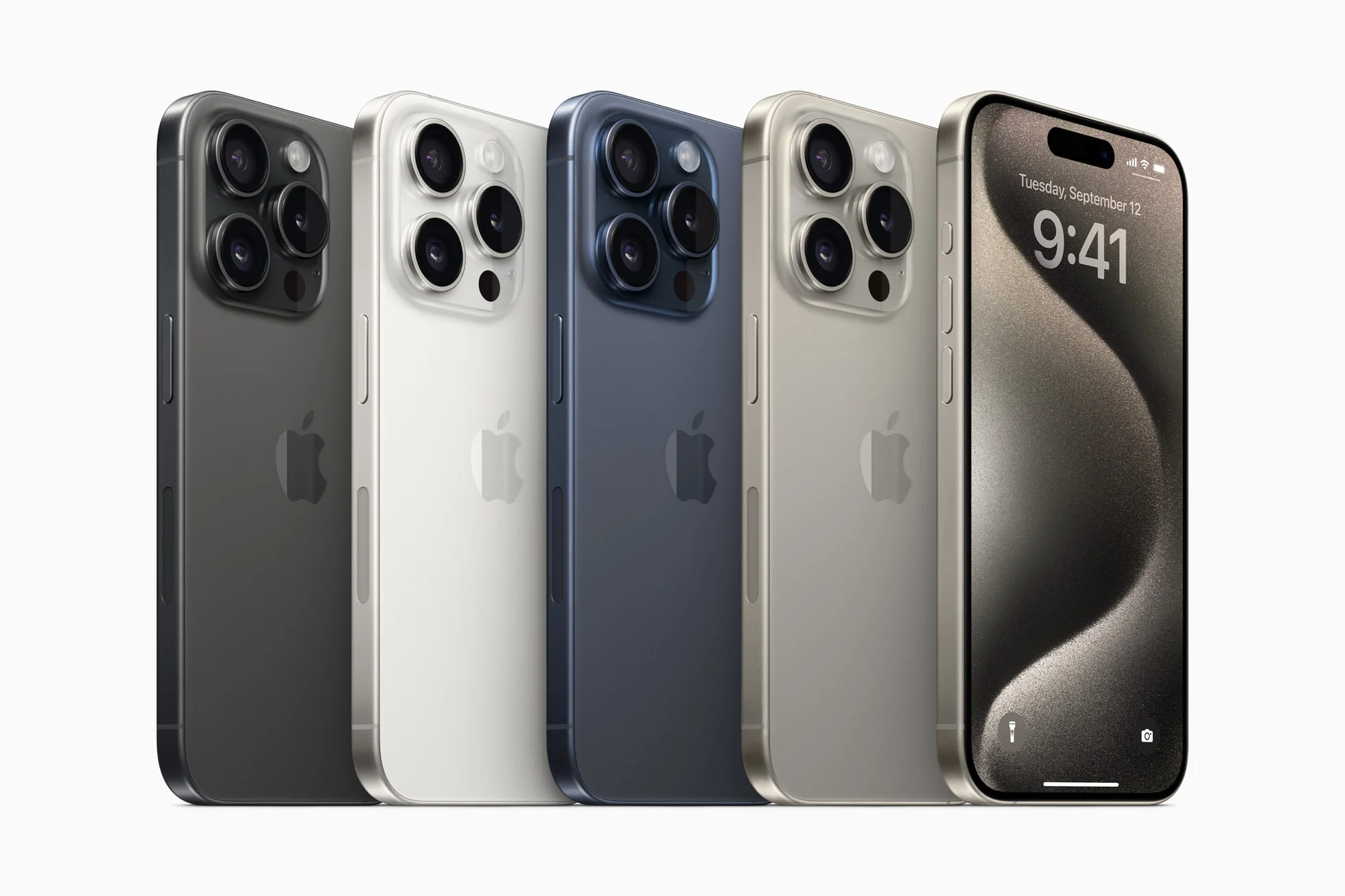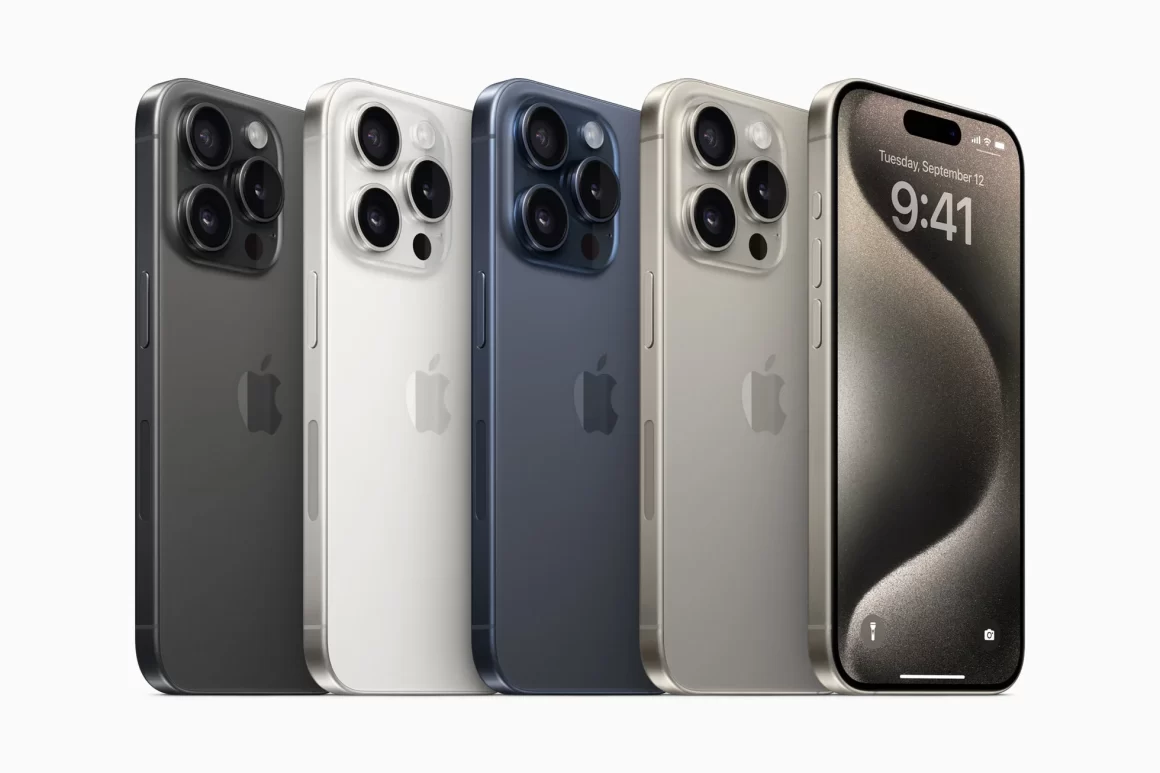 These precision-crafted products come in black titanium, white titanium, and blue titanium. With such a wide range of finishes, you can easily match your gadget to your style and make a statement everywhere.
Even more impressive, the iPhone 15 Pro stays at $999 (U.S.), giving it an appealing option for buyers wanting high performance without breaking the budget. Apple offers many storage solutions for different needs. Storage options for the iPhone 15 Pro are 128GB, 256GB, 512GB, and 1TB.
At $1,199 in the US, the iPhone 15 Pro Max is not for those on a budget. Despite its high price, the iPhone 15 Pro Max has many outstanding features and storage options. Apple has gone all out to meet people's storage needs. Storage options for the iPhone 15 Pro Max include 256GB, 512GB, and 1TB. A storage option exists for both casual and power-hungry content creators.