Today, Samsung Electronics presented its vision for a more calm and connected world made possible by innovative technologies that improve the quality of life of people by delivering experiences that are both more intelligent and more intuitive. At a press conference held during CES® 2023, Samsung and its key partners gathered together to discuss the specifics of their plans to develop a more connected world while also contributing to a more sustainable future.
The Vice Chairman, CEO, and Head of the DX (Device eXperience) Division at Samsung Electronics, Jong-Hee (JH) Han, opened the company's presence at CES by highlighting Samsung's strategy to deliver on the promise of the connected experience across the key touchpoints in our lives, including in our homes, cars, and places of work, while also working to build a more sustainable future.
The company's goal of bringing calm to our connected world is at the center of the plan that was described during the press conference. The company wants to achieve this goal so that technology and innovation can truly enable better, more personal, and more intuitive experiences. In order to accomplish this goal, Samsung is concentrating its efforts on developing products that allow for the seamless connection of various devices and on creating solutions that make the use of technology in everyday life more environmentally friendly.
The Korean technology giant presented a technological vision that could make a significant impact on people's day-to-day lives as well as the state of the environment throughout the world by easily connecting the 14 billion devices that are currently in the market. To this purpose, over half of the executives and workers working for the DX division have disclosed that the linked technology sector is their primary area of concentration.
In addition, the company displayed innovations and technologies of the next generation that make use of the most recent advances in artificial intelligence (AI). Experiences made possible by Spatial AI, such as those found in the JetBot AI+, are laying the framework for improved in-home experiences that are tailored to the dimensions and environment of your space.
Samsung also provided a sample of its Relumino Mode, which will be available on select models of the 2023 Samsung Neo QLED 8K and 4K TVs this year. This mode will enable users with vision impairments to enjoy content on these televisions. The content will be simpler to comprehend and more enjoyable to look at thanks to Relumino Mode's highlighting of contours and enhancements to contrast and color.
Sustainability is included in every level of operation at Samsung.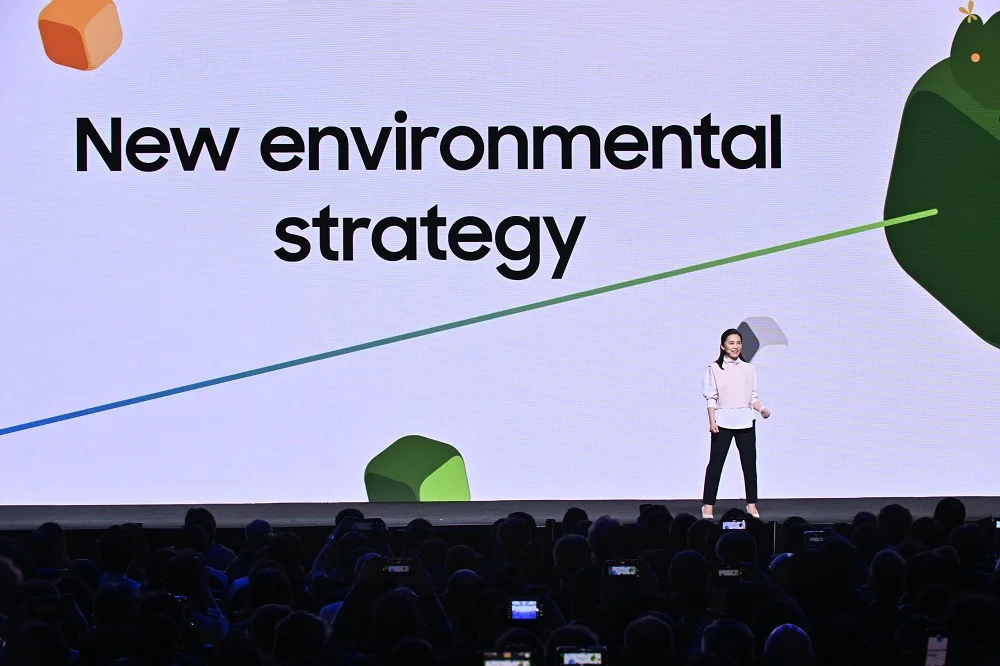 Samsung highlighted the ways in which it continues to prioritize the environment through a combination of sustainability targets, innovative product design, and strategic collaborations in order to address the ongoing issues that are facing our planet. As a consequence of this, by the year 2050, all of Samsung's enterprises will have met their need for power through the use of renewable energy sources and will have achieved net zero carbon emissions. In the not-too-distant future, the DX Division will make the switch to renewable energy in the amount of one hundred percent by the year 2027 and will reach net zero carbon emissions by the year 2030.
Samsung has claimed that many of its TVs and smartphones employ recycled materials, including recycled plastic from discarded finishing nets. Additionally, the company's home appliances, memory, and 5G radio network chipsets are helping to energy savings for customers. In addition, Samsung's connected services, such as SmartThings Energy and AI Energy Mode, are assisting customers in reducing their energy use, which in turn helps them save money and has a smaller overall impact on the environment.
Patagonia and Samsung have worked together to develop the Microplastic Reduction Course, which, when applied to washing processes, has the potential to cut the amount of microplastics produced by as much as 54 %.
Meanwhile, James Kwon, Product Manager for ENERGY STAR for Consumer Electronics at the United States Environmental Protection Agency (EPA), announced that Samsung's connected home experience with SmartThings is the first mass-market Smart Home Energy Management System to earn the prestigious ENERGY STAR SHEMS Certification. Additionally, Samsung continues to work together with a wide variety of stakeholders on its environmental initiatives.