Last month, Xiaomi provided a sneak peek of their highly anticipated MIUI 15, the next iteration of their user interface. However, the intricate specifics of its groundbreaking features were kept under wraps, leaving fans eagerly awaiting further revelations. There has been a lot of buzz surrounding the Redmi K60 Ultra, with rumors suggesting that it will be the hybrid for the latest MIUI 15 operating system. This development has ignited a wave of speculation regarding its compatibility with other Xiaomi devices.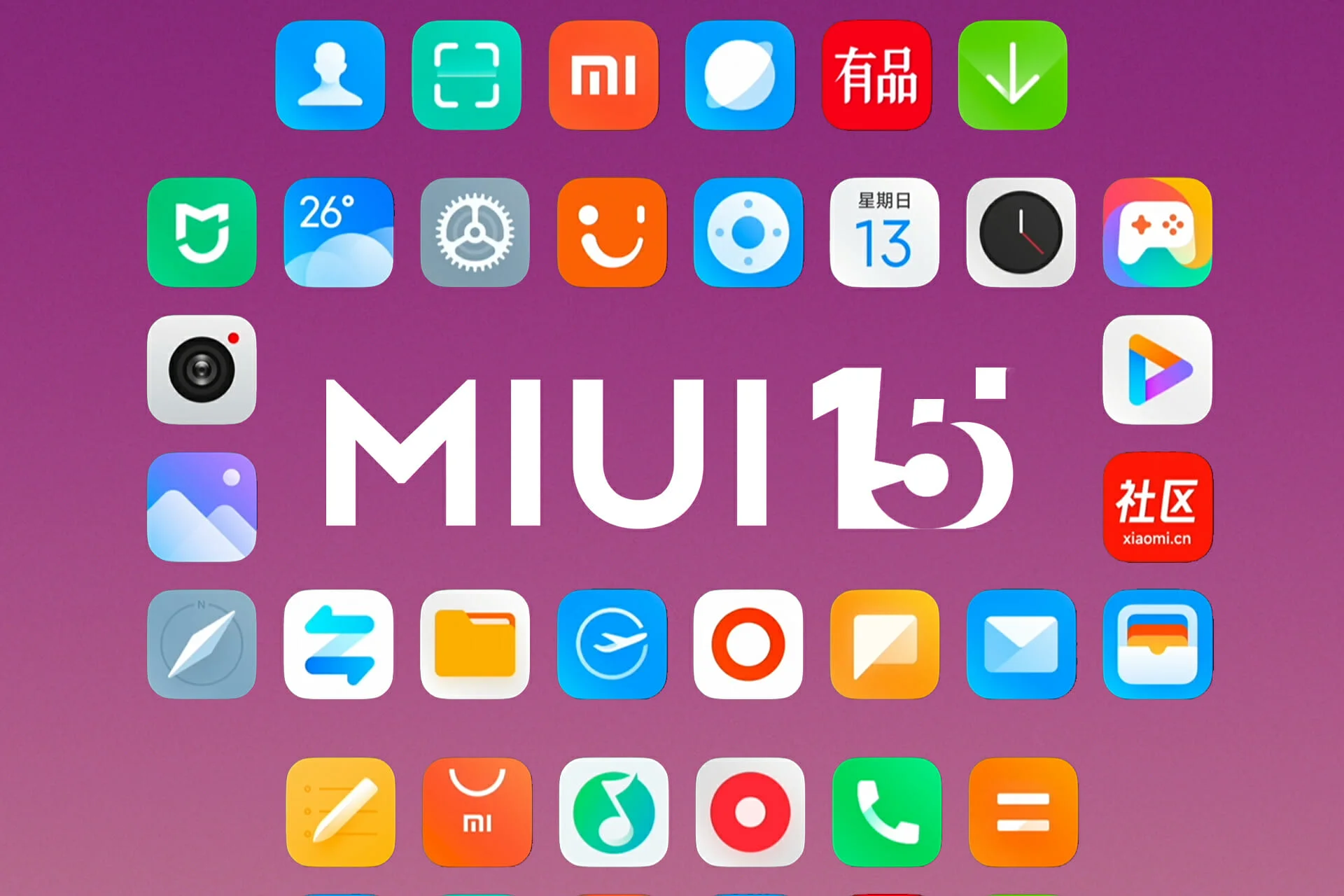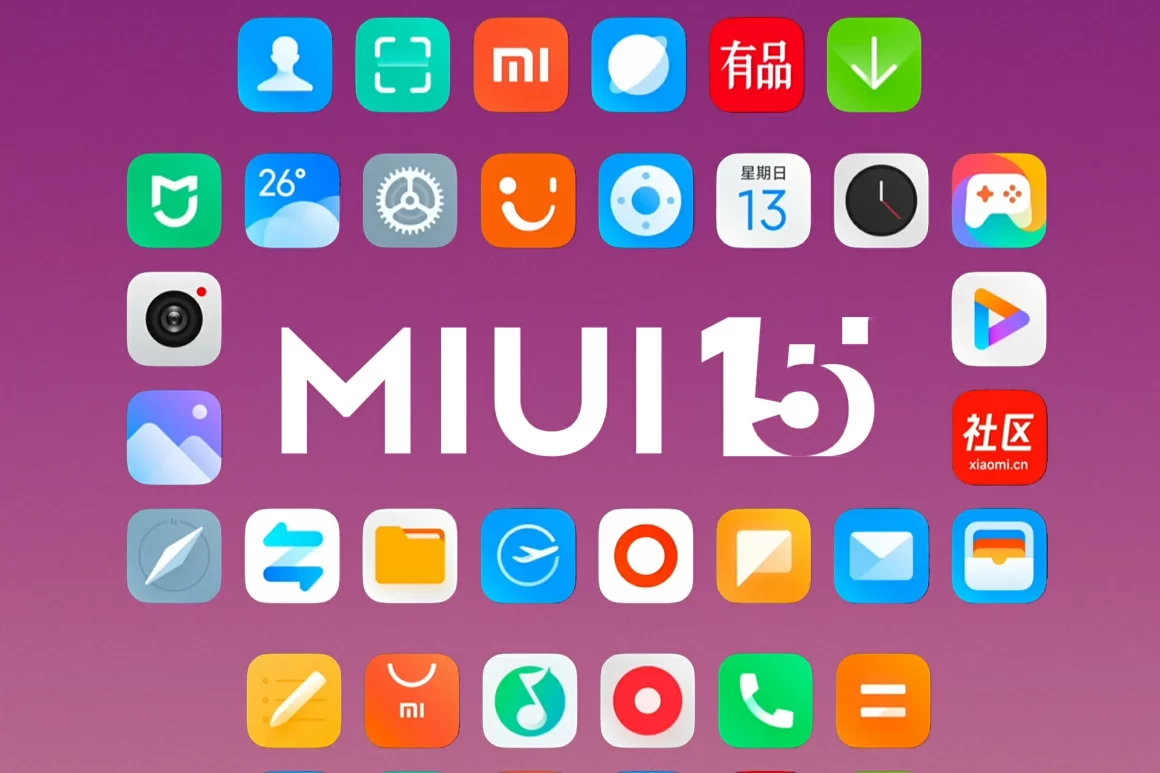 Xiaomiui, the renowned tech platform, has recently unveiled an intriguing compilation of devices that are anticipated to get the MIUI 15 update. While we eagerly await an official confirmation from Xiaomi themselves, this preliminary list has certainly piqued the curiosity of Xiaomi fans worldwide. Xiaomi fans around the world are eagerly counting down the days until the anticipated November launch, brimming with anticipation for a plethora of novel features and remarkable enhancements that are expected to grace the upcoming interface.
Today, we're exploring the MIUI 15 update and the devices that are rumored to receive this software upgrade.
DISCLAIMER: The following compilation is not an official enumeration. The meticulously curated list has been expertly compiled by none other than Xiaomiui, the renowned authority in the world of Xiaomi.
List of expected devices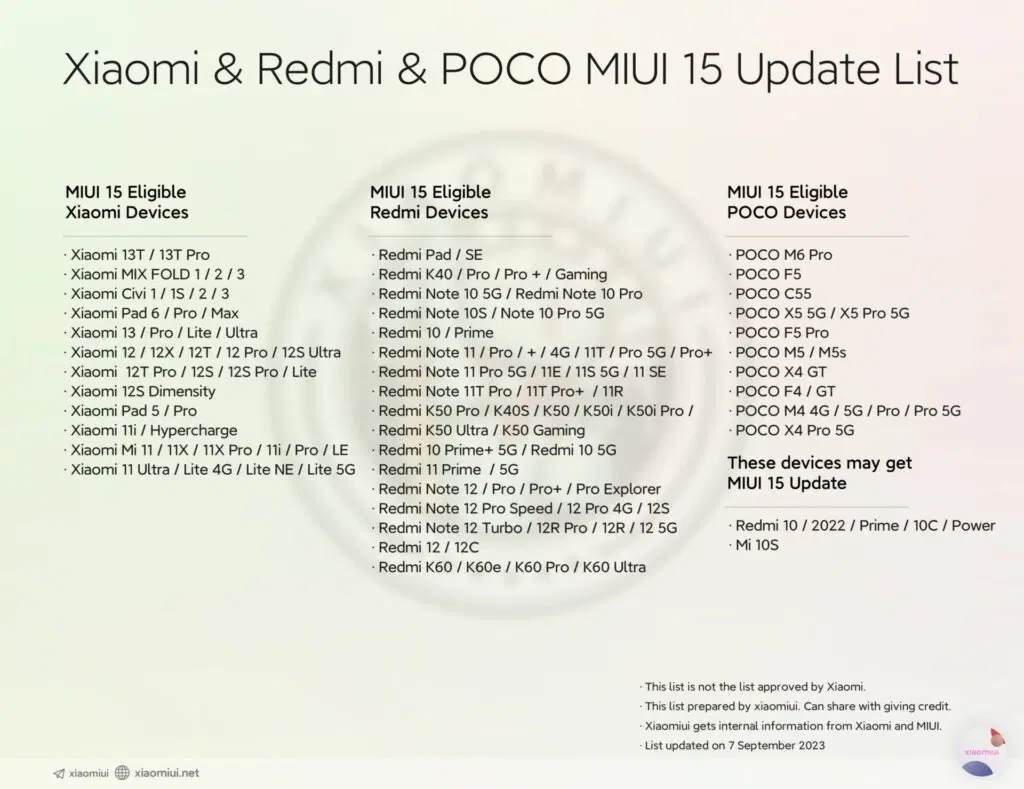 Eligible Xiaomi Devices for MIUI 15:
Xiaomi 13T/13T Pro
Xiaomi Mix Fold 1/2/3
Xiaomi Civi 1/1S/2/3
Xiaomi Pad 6/Pro/Max
Xiaomi 13/Pro/Lite/Ultra
Xiaomi 12/12X/12T/12 Pro/12S Ultra
Xiaomi 12T Pro/12S/12S Pro/Lite
Xiaomi 12S Dimensity
Xiaomi Pad 5/Pro
Xiaomi 11i/Hypercharge
Xiaomi Mi 11/11X/11X Pro/11i/Pro/LE
Xiaomi 11 Ultra/Lite 4G/Lite NE/Lite 5G
Eligible Redmi Devices:
Redmi K60/K60e/K60 Pro/K60 Ultra
Redmi Pad/SE
Redmi K40/Pro/Pro+/Gaming
Redmi Note 10 5G/Pro
Redmi Note 10S/Note 10 Pro 5G
Redmi 10/Prime
Redmi Note 11/Pro/+/4G/11T/Pro 5G/Pro+
Redmi Note 11 Pro 5G/11E/11S 5G/11 SE
Redmi Note 11T Pro/11T Pro+/11R
Redmi K50 Pro/K40S/K50/K50i/K50i Pro
Redmi K50 Ultra/K50 Gaming
Redmi 10 Prime+ 5G/Redmi 10 5G
Redmi 11 Prime/5G
Redmi Note 12/Pro/Pro+/Pro Explorer
Redmi Note 12 Pro Speed/12 Pro 4G/12S
Redmi Note 12 Turbo/12R Pro/12R/12 5G
Redmi 12/12C
Eligible POCO Devices for MIUI 15:
POCO X5 5G/X5 Pro 5G
POCO M6 Pro
POCO F5
POCO C55
POCO F5 Pro
POCO M5/M5s
POCO X4 GT
POCO F4/GT
POCO M4 4G/5G/Pro/Pro 5G
POCO X4 Pro 5G
What to expect in the latest MIUI 15?
Based on different rumors, it appears that MIUI 15 is expected to bring forth an array of exciting features and enhancements. This highly anticipated iteration of Xiaomi's user interface promises to deliver an immersive and seamless user experience. With a focus on optimizing performance and refining the overall interface, MIUI 15 is set to elevate smartphone usage to new heights.
Customization
Users will be delighted to discover tons of enhanced lock screen customization options. This exciting array encompasses the ability to modify the clock, date, and weather display, allowing for a truly personalized user experience. Moreover, the integration of artificial intelligence technology introduces a captivating feature – AI-generated wallpapers. So expect a visually stunning lock screen that adapts to your preferences and keeps you captivated at all times.
Privacy
Privacy has taken center stage in the latest update, with a range of enhanced features that are sure to please security-conscious users. One notable improvement is the ability to block old Android app installations, ensuring that only the most up-to-date and secure applications make their way onto your device. Additionally, the update introduces the option to disable PIN entry animations, providing an extra layer of privacy by preventing prying eyes from deciphering your passcode. These privacy-focused enhancements are a welcome addition, further solidifying the platform's commitment to safeguarding user data.
Performance
Experience enhanced performance efficiency with the latest iteration of MIUI, surpassing its predecessor MIUI 14. This remarkable achievement is primarily attributed to the meticulous optimizations tailored specifically for the cutting-edge Android 14 platform.
Camera
One of the potential additions is the inclusion of Ultra HDR support for both photos and videos. This promises to take your photography and videography experience to a whole new level, allowing you to capture stunningly detailed and vibrant images with enhanced dynamic range. With Ultra HDR, you can expect to achieve greater clarity, richer colors, and improved contrast in your shots.