The Google Pixel 6 Pro is Google's most serious smartphone contender to date. Google has managed to bring all the flagship features, including its own Tensor processor, a massive 6.7-inch 120Hz refresh rate display, a 50MP main camera, and a 4x telephoto camera. In fact, the Pixel 6 Pro is attempting to outperform the iPhone 13 Pro, not to mention the other Android phones from companies such as Samsung and OnePlus. Google defied all expectations.
The Google Pixel 6 Pro is Google's first significant effort at a high-end device capable of competing with flagships like Samsung Galaxy S21 Ultra and iPhone 13 Pro Max.
Introduced alongside the standard – and significantly cheaper – Google Pixel 6, this new Pro model is intended to be the company's flagship, packing its new Tensor chipset, a fantastic camera setup, among other enhancements.
It's also intended to be the ideal platform for showcasing Android 12 and future variants, and it's fair to assume that Google has absolutely killed it with this major update of its smartphone.
The Google Pixel 6 Pro has a completely distinct design – though it isn't exceptional, as it shares it with the Google Pixel 6.
Another notable feature of the Pixel 6 Pro is the new Tensor chipset. We haven't seen any significant improvements over phones with more conventional chipsets, but it's still conveniently powerful enough to load apps and games.
Another highlight is the Pixel 6 Pro's camera setup, which is a powerful and flexible array that allows you to capture a wide range of subjects in a variety of ways. The main camera's sensor is an improvement over what we've seen from Google in the past, and new software upgrades only enhance the experience.
The battery life on the Pixel 6 Pro is adequate – it will get you through a full day of normal use. It has fast-charging and wireless charging capabilities, but neither is overly amazing.
While the Pixel 6 Pro isn't the best smartphone money can buy right now, it's a close second. Google has improved its smartphone game in the last year, and this next-generation Android flagship is the pinnacle of its efforts.
Design & Display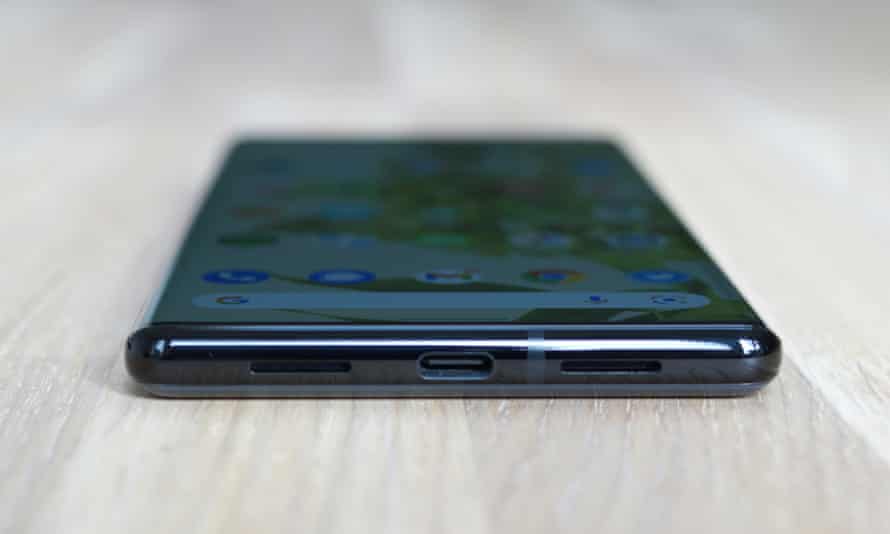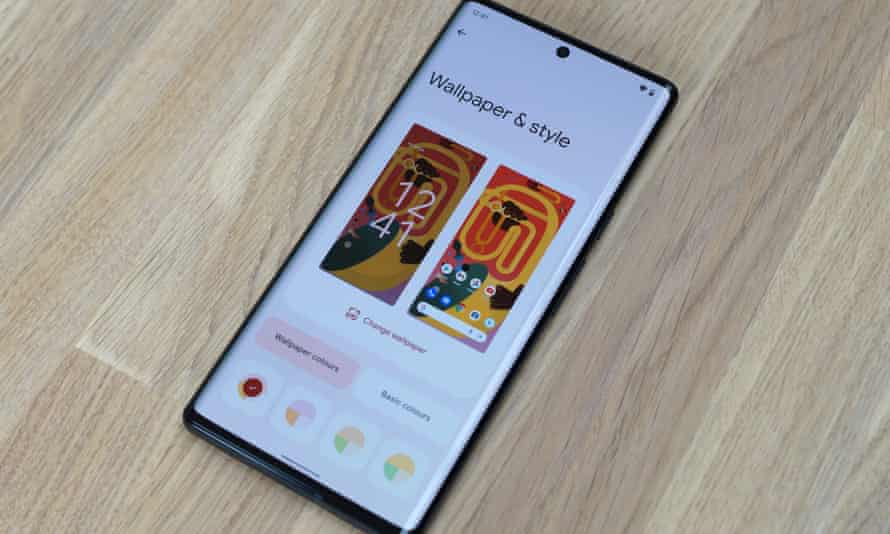 Unlike previous Google phones, which appeared to be designed to be as ordinary-looking as possible, the Pixel 6 Pro has a very distinctive look. When I first looked at the Pixel 6 Pro, the large camera band that spans the entire width of the phone caught my attention and I was not impressed by the design – although it gives the phone a unique look.
I'd also strongly advise anyone purchasing a Pixel 6 Pro to get a case. The mixed metal and glass design is a fingerprint magnet, despite the fact that it looks nice and feels well built –the back of the Pixel 6 Pro is a stain magnet.
Despite its IP68 certification, which allows it to withstand the occasional accidental dip in the water, however, the Pixel 6 Pro frequently became difficult to hold when wet because it is slippery. Using it with sweaty hands may be difficult. This was due to the fact that, like the Galaxy S21 Ultra, the Pixel 6 Pro has curved glass sides on the front.
Aside from that, the phone checks all of the boxes. The Pixel 6 Pro is the first Google device to include an in-screen fingerprint scanner. I really like that the Pixel has an "Always-On" display, which means it turns off while still showing the time, date, weather, notifications, and battery percentage.

The screen on the Pro is its main selling point. In addition to being larger than the Pixel 6, which has a 6.4-inch screen, the Pro's 6.7-inch screen has a higher resolution and a 120Hz variable refresh rate. The latter is an important feature that allows the Pixel 6 Pro to compete with considerably more expensive phones such as the iPhone 13 Pro Max and Galaxy S21 Ultra.
The new 120Hz screen, like the one on the iPhone 13 Pro Max, makes scrolling through apps seamlessly, and generally navigating around the interface feel incredibly fast. Unfortunately, just like the iPhone 13 Pro Max, you won't be able to see everything animating at 120Hz because only a few apps support it. However, the Google news feed and Facebook run at 120Hz, but Twitter jerks around at 60Hz. At the very least, the number of 120Hz Play Store games has steadily increased over the last two years.
The only disadvantage is that a higher rate puts more strain on the battery. Variable refresh rates mitigate this by increasing the Hz count only when there is a measurable benefit. This means that the Pixel 6 Pro's LTPO panel can run at as low as 10Hz to conserve battery power when doing simple tasks like reading before jumping to 120Hz when you open PUBG mobile.
This refresh rate technology works wonderfully and makes everything from gaming to video editing far more enjoyable on the Pixel 6 Pro than it does on most competing handsets, and it's a significant step up from the Pixel 5's 90Hz non-variable refresh rate display.
Returning to the new 6.7-inch display, it's an LTPO OLED with a stunningly sharp QHD+ (1440 x 3120) resolution, ideal for watching movies. Although the display only reaches 800 nits in high brightness mode, which may appear dim in comparison to the iPhone 13 Pro's 1,000 nits brightness. The screen is excellent for entertainment, with adequate maximum brightness levels to keep the text legible in most conditions, including direct sunlight. This, combined with its deep OLED blacks, makes it ideal for watching HDR content.
Google Pixel 6 Pro: Camera
The 6 Pro features Google's first completely innovative camera. The camera won't disappoint and it competes with the likes of the iPhone 13 Pro Max. On the back, there is a 50MP main camera, a 12MP ultrawide camera, and a 48MP 4x optical zoom telephoto camera, as well as a front-facing ultrawide 11.1MP selfie camera.
Simply put, the main 50MP camera is one of the best. It effortlessly captures a spectacular amount of detail in a variety of good and difficult lighting conditions, with an appealing level of vibrancy. The telephoto camera is easily one of the best available, producing unrivaled shots at 4x magnification in good and medium-light with very little quality drop-off when compared to the main camera, which is uncommon. Only Samsung's S21 Ultra, which has both 5x and 10x optical zoom, outperforms it in terms of utility, though not necessarily in terms of quality.
The ultrawide camera is the weakest link in the chain. It's not quite as "ultrawide" as what we've seen on most flagship phones, with a 0.7x magnification and a wider field of view, compared to competitors with 0.5x magnification and a wider field of view. However, it produces very good images that are relatively soft in detail than the main camera.
The main camera's low-light performance is excellent, and the dedicated night sight mode works beautifully on all three cameras in extremely low-light situations. The 11.1MP selfie camera is also quite good, and it can take both normal and ultrawide photos, which is useful for a group shot.
In terms of video, the camera is quite capable. It can capture 4K or 1080p video at 30 or 60 frames per second, but it simply can not compete with the iPhone 13 Pro Max for video capture because the iPhone has better image stabilization options.
Performance & battery
Unlike most Android smartphones, which are powered by Qualcomm chips, the Pixel is powered by Google's first-ever self-made Tensor chip. The chip provides excellent performance and contributes to the Pixel's long battery life. Not just that, but it safeguards sensitive data and makes your Pixel less vulnerable to malicious hacks.
Apps open instantly and the entire interface feels smooth in general, from opening menus to switching between apps. Thankfully, the Pixel 6 Pro's 12GB LPDDR5 RAM makes it much better at keeping apps cached in memory. However, The device lacks a microSD card slot, which means you're limited to either 128GB or 256GB of storage, which will be an issue if you plan to take a lot of RAW photos or shoot video.
On this device, Android 12 is ready and waiting for you, and it looks gorgeous. If you want to try out the most recent version of Google's software, this is the place to go.
This update is especially noticeable here, as opposed to previous Pixel devices. The Pixel 6 Pro's stunning display is the ideal showcase for Android 12's fresh Stuff, and it's one of the phone's true standouts.
Android 12 performs admirably on the Pixel 6 Pro, as one would expect. Google has also revealed that the phone will receive three full software updates, so you can expect this device to be supported through Android 13, Android 14, and Android 15.
It will also receive a minimum of five years of security updates, so expect this to be a secure smartphone experience at least until the end of 2026.
The Google Pixel 6 Pro has a huge 5,003mAh battery. Google claims that it has a battery life of 24 hours and lasts for a staggering 48 hours of normal use with Extreme Battery Saver mode, which turns off non-essential apps.
With typical usage – which includes web browsing, scrolling through social media, video streaming, and making calls – you will easily end the day with close to 70 or 80%. Heavier usage, including gameplay, will easily get you closer to 40 percent, implying that it could get you the second day of typical usage before running out of juice.
And if you have even a few minutes of access to an outlet, you'll get a lot more. Google claims that the Pixel 6 Pro can be charged to 50 percent capacity in 30 minutes using a 30W power brick (which is not included in the box).
Google Pixel 6 Pro Full Specs
Announced Date
19th October 2021
Release Date
28th October 2021
Build
Glass front (Gorilla Glass Victus)
Glass back (Gorilla Glass Victus)
Aluminum frame
Weight
210 g
Water-Resistant
IP68 dust/water resistant
Dimensions
163.9 x 75.9 x 8.9 mm
Display Size & Type
6.71 inches LTPO AMOLED
QHD+
120Hz refresh rate
19.5:9 ratio
HDR10+
Always-on display
Screen Protection
–
Screen Resolution
1440 x 3120 pixels
Screen-to-body ratio
90%
Pixel Density
512 PPI
Software
Android 12
CPU
Octa-core
GPU
Mali-G78 MP20
Chipset
Google Tensor (5 nm)
Storage
128/256 GB
No SDCard slot
RAM
12 GB
Main Camera
(Triple)
50 MP (f/1.9) Ultra-wide
48 MP (f/3.5) Telephoto
12 MP (f/2.2)

Supports [email protected]/60fps, [email protected]/60/120/240fps; gyro-EIS, OIS
Selfie Camera
(Single)
11.1 MP
Supports [email protected], [email protected] video recording
3.5mm Headphone Jack
No
Network
2G, 3G, 4G, 5G
Connectivity
GSM, GPS, Wi-Fi 802.11 a/b/g/n/ac, BT 5.0,
Sensors
Fingerprint (In-display)
G-SENSOR
E-COMPASS
Gyroscope
LIGHT SENSOR
Barometer
PROXIMITY SENSOR
Battery
-Non-Removable Li-Po 5003 mAh
-USB: Type-C 3.0, supports OTG
-Fast battery charging: Yes (33W)
-Wireless Charging: Yes (23)
-Reverse charging: Yes
Colors
Cloudy White, Sorta Sunny, Stormy Black
Price
Starts from $899
*Pls Note that the price of this device may change with time.
Verdict
Google has successfully delivered a flagship-class phone that can compete with the likes of Samsung Galaxy S21 Ultra, iPhone 12 Pro, and OnePlus 9 Pro
The battery life is adequate, the screen is excellent, and Android 12 is the most smooth and refined software Google has ever put on a phone. The guarantee of five years of security updates is also appealing.
It makes it look like a $1,099 phone. However, at $899, it undercuts top-tier rivals by up to 100, making it remarkably decent value if not essentially cheap.
Should you buy it?
The Google Pixel 6 Pro offers a lot – and all for a reasonable starting price of $899. It's a significant improvement over the previous Pixel phone, and it appears that Google has eventually discovered its footing. While a few features, such as support for the 120Hz display and some camera-related features, could still use improvement, I can confidently say that this is the best smartphone for its price, performance, and cameras. The only things that might put you off buying this phone are its massive screen size or the camera design.