Before this update, Google's voice call screen had been able to switch between WiFi and cellular networks. It was undeniably a move in the right direction by the company, which was advantageous for a significant number of users out there. According to recent reports, the tech giant has introduced yet another update to the Google Voice call screen. The "Suspected Spam Caller" alert will be able to appear on the net now that it has been updated. Because of this, users will have a simpler time avoiding unwanted calls, which clearly includes any further fraud that may have been engaged in the call.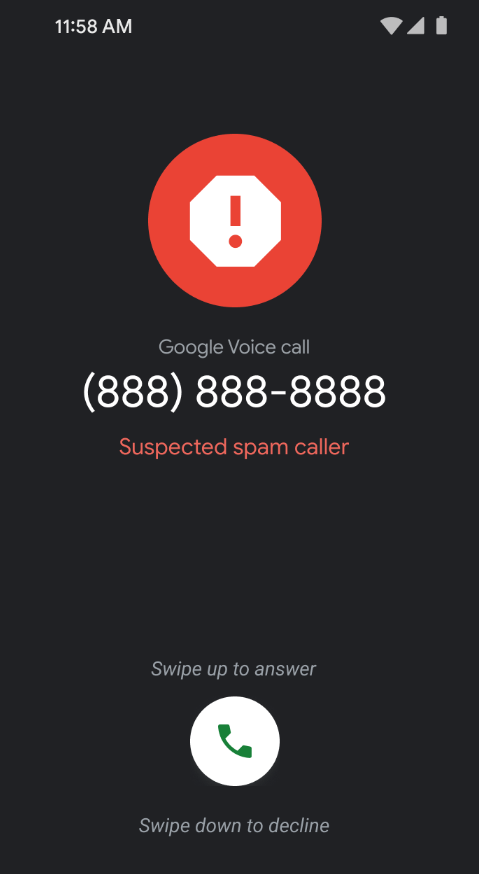 Both the caller number and the displayed avatar will have the text "suspected spam call" displayed underneath. In addition, the caller history will show the tag that corresponds to that specific phone number or caller. If there are some errors or the user is able to recognize the number, they are given the option to mark the labeled caller as "not spam," at which point the suspicious spam label will never again be displayed for that number. This option is only available if there are some errors or the user is able to recognize the number.
The user's call history will be immediately saved to the spam folder on the device if the user tags the suspicious number as "spam." Any additional calls from the number will be forwarded to voicemail if the user marks it as "spam." In addition, the user has the option to completely deactivate the feature that filters spam calls. If this is done, Google will no longer label any caller as "suspected spam" or any other designation. To turn off the feature, navigate to the Settings menu of the dialer, then select Security, and after that, Filter Spam Calls. Users can easily disable it from this page if they want.
A few days from now, the tech giant will send out an update to all of its users that will make a new function operational. The rollout of the feature to all of the platform's users already has begun. Google claims that it uses artificial intelligence to differentiate between spam calls and legitimate calls and that it marks as spam any call that raises even the slightest suspicion of being spam. In addition to this, they claim that the AI is able to identify billions of spam calls each month throughout the whole of Google's calling ecosystem.