Exciting news for WhatsApp users! The screen-sharing feature has finally made its way to the popular messaging platform. Now, both mobile and desktop users can seamlessly share their screens while engaged in video calls. This new addition is set to revolutionize the way we communicate and collaborate, bringing a whole new level of convenience and productivity to our virtual interactions. Whether you're using your smartphone or sitting at your computer, the screen-sharing feature on WhatsApp is here to enhance your video call experience. Get ready to take your conversations to the next level of functionality.
When it comes to the seamless sharing of screens during video calls on WhatsApp, there are a few key considerations users should bear in mind.
When engaging in screen-sharing sessions, it is crucial to be aware of the potential security risks involved. One such concern is the visibility of sensitive information, such as usernames and passwords, to the individual with whom you are sharing your screen. It is important to exercise caution and take appropriate measures to protect your confidential data during these collaborative sessions.
Screen Sharing is protected with end-to-end encryption. In order to facilitate seamless screen sharing and screen viewing, it is imperative that all participants involved in the interaction are equipped with the most up-to-date iteration of WhatsApp. This ensures optimal compatibility and a smooth user experience throughout the process.
Currently no audio transmission is available.
How to Share your Screen on Whatsapp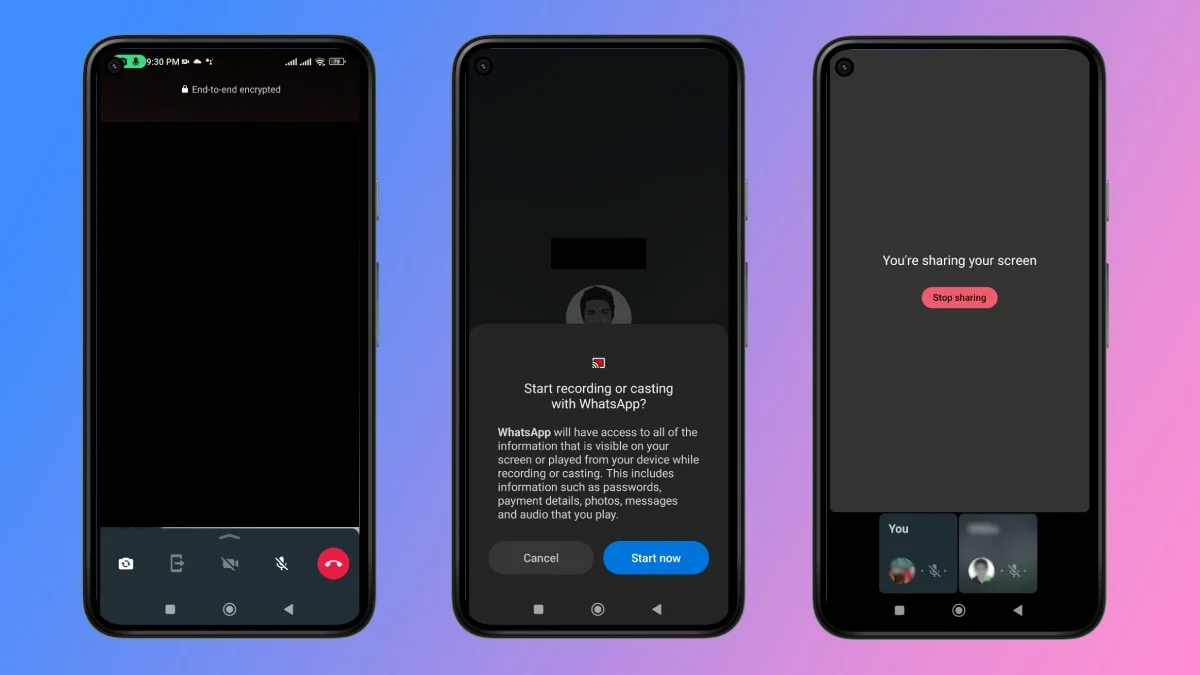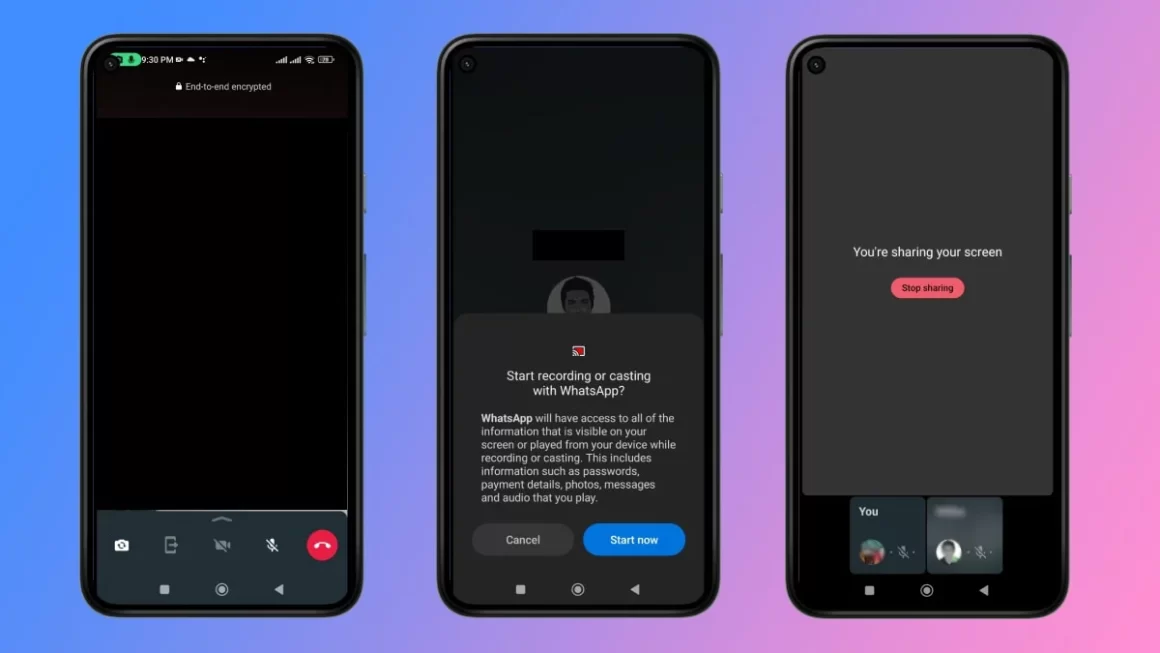 1. Go to the Google Play Store
To begin the process, navigate to the Google Play Store on your Android device. I highly recommend searching for WhatsApp on your device and ensuring that you have all the pending updates installed. By doing so, you'll be able to experience the full feature
2. Choose the contact you want to share the screen with
After successfully installing the latest software update Locate the iconic green icon on your smartphone's home screen and tap to launch the app. Next, you'll need to choose the specific contact with whom you wish to initiate a screen-sharing session.
To initiate a seamless video communication experience, simply navigate to the upper right corner of your screen and tap on the Video call icon.
As you eagerly await the recipient's acceptance of your video call invitation. Take a moment to relax and prepare yourself for the exciting virtual encounter that lies ahead.
3. Tap the screen-sharing icon At the bottom of the display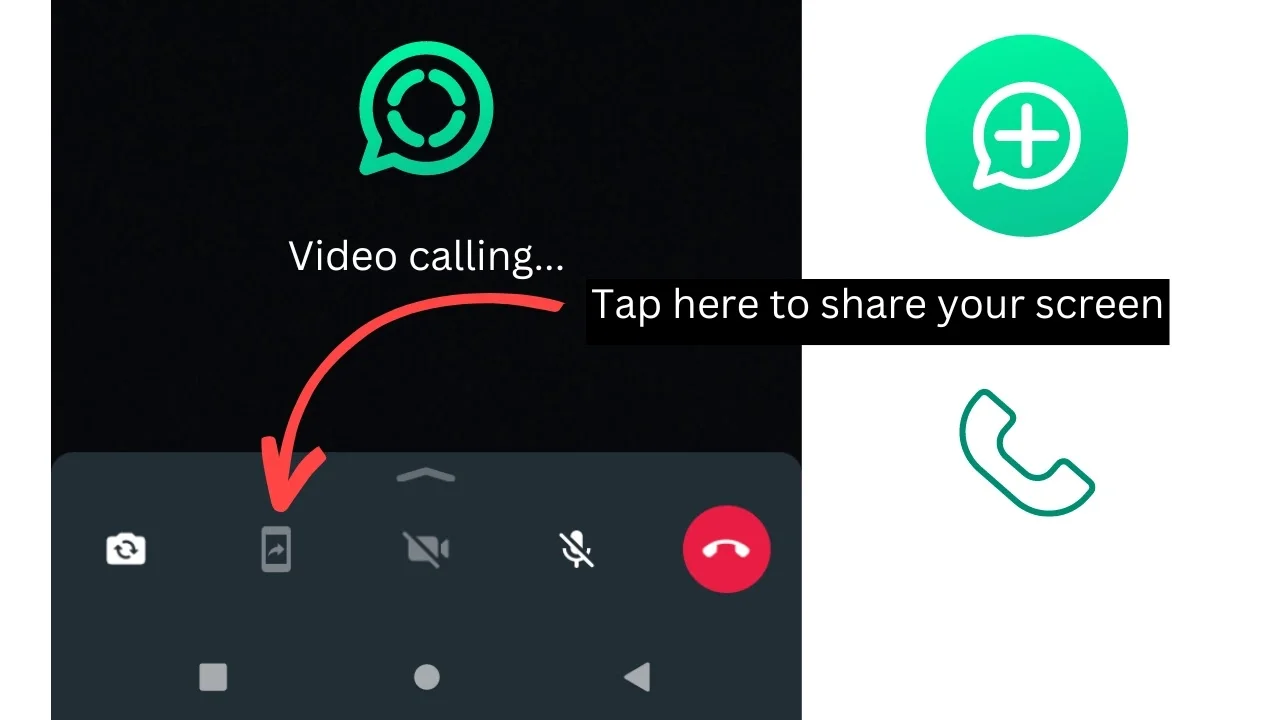 In order to initiate a seamless video call experience, simply tap on the Screen Share icon conveniently located at the bottom of your screen.
Is screen Share not available or having problems?
If you happen to be unable to locate the Screen Sharing feature within your WhatsApp application, it is highly likely that you are utilizing an outdated version of the WhatsApp App. In order to fully leverage the latest functionality, it is imperative that users promptly update their WhatsApp application to the most recent version available.
If you're experiencing difficulties with screen-sharing functionality on WhatsApp, fret not! There are a few troubleshooting steps you can take to potentially resolve the issue. One possible solution is to disable the power saving mode on your device, as this feature may interfere with the Screen Sharing feature.
Additionally, a simple restart of your phone might do the trick, as it can help refresh the system and resolve any temporary glitches.
Another helpful step is to verify the WhatsApp Server Status, as occasional server disruptions can impact the functionality of certain features.
By following these suggestions, you may be able to get your Screen Sharing on WhatsApp up and running smoothly once again.