What is the cost of developing an app? There is no set cost for developing a mobile application.
Consider some of the most recent things or services you've bought. Whether it's a car, a cell phone, or a cleaning service, prices vary depending on certain factors.
The same may be said for your mobile app. So, how much does developing an app cost? The cost of the app will be determined by your objectives.
You get what you paid for, like with most things in life. You cannot expect to create outstanding software for a few dollars. At the same time, investing a lot of money does not guarantee success.
Here's an analogy to which you're undoubtedly familiar with:
If you don't know how to cook, spending a million on kitchen gear won't turn you into a competent chef. To be successful, you must understand what you're doing.
So just because you want to spend as much money as possible developing your app does not guarantee that it will be a success if you don't know how to operate a business.
How much does the application cost: Price Influencing Factors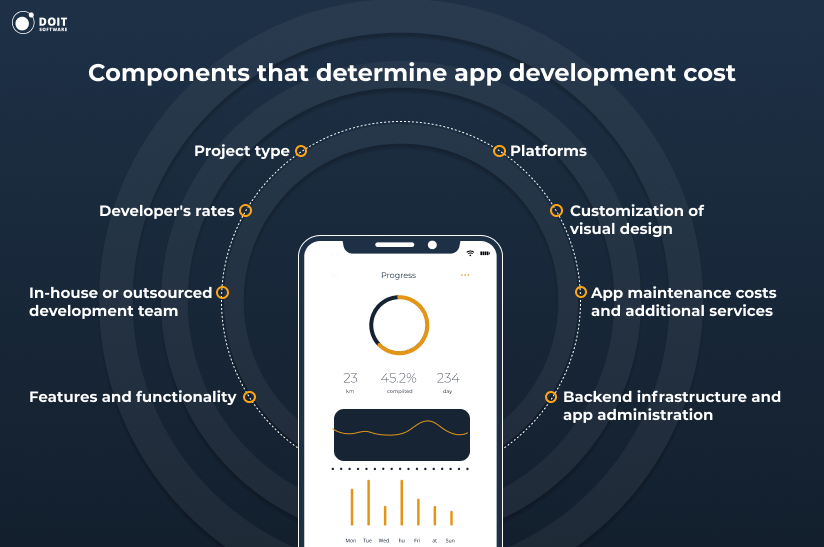 If you're going to develop an app for your company, the first thing you'll want to know is how much money you'll need to set aside. Much is dependent on the company that develops web apps.
Application type
The market for native app development professionals is currently limited. This is the primary reason why a project of this magnitude normally has a high service cost.
It can be minimized in part if, instead of developing your application, you develop a hybrid application. And even more extreme if you select PWA. This selection, as well as the features you wish to include in the app, will have a considerable impact on the answer to the question "how much does the app cost."
The type of company that creates your application has a significant impact on the price. Each company or specialist will have its own rates, and in order to choose the one that provides the most value for money, we recommend requesting at least three estimates for your upcoming project. As a result, you can compare and select the most convenient solution.
Note that the best option does not always have to be the cheapest. You must choose an offer that provides the best service at a reasonable price.
Country of origin of the developers
We are all aware that labor costs differ among countries. They are tied to each country's economic standing. As a result, a person in the United States does not charge the same fee as someone in India. The quality of work may be the same, yet prices vary substantially due to differences in economics, culture, and lifestyle. It's not about undervaluing labor. Each specialist sets his or her own fees.
However, hiring a developer from another country is risky. It is preferable to do so if you have a proven service provider in mind. Otherwise, it might be rather dangerous.
How much does it cost to develop a mobile app?
We'll look at more particular figures in this section. However, keep in mind that prices vary depending on a variety of factors. The numbers vary depending on the type of app, including design and development, functionality, the systems it links to (backend), and the UX/UI layer.
Progressive Web Apps (PWA)
These are websites, yet the UI / UX is similar to that of an application. They operate via the browser. In this situation, the cost of doing it yourself or with someone from your team can be around $500. If you order from a third-party specialist or company, the price can start as low as $2500.
It should be expected that the service provided by a PWA team will differ from what you or someone you trust can deliver. As a result, the price disparity.
Hybrid apps
In this example, we're talking about apps that mostly use the network programming language, coupled with some native code particular to each operating system (Android, iOS).
How much does this type of mobile application cost? Prices start at about $5000. Without the expertise of the app builder, it will be more difficult for you to make it here.
Native apps
We have arrived at the most sophisticated, comprehensive, and thus expensive sort of development.
Native apps are those that are written in a programming language particular to each operating system.
That is, if you want to make an app that works on both Android and iOS, you must create two apps, one for each operating system. As a result, the budget grows. This development for Android and iPhone will likely cost you at least $15,000.
However, as previously stated, web app development cost estimation is dependent on the company chosen. If you contact proven and dependable specialists, you can obtain a high-quality product at a reasonable price.