A recent announcement made by Lenovo revealed that the company will be launching a variety of laptops in 2023. Reports indicate that the company is getting ready to launch five new models as part of the Xiaoxin series, which will comprise the Digital Series, the Pro Series, and the Air Series.
The Xiaoxin Series of laptops from Lenovo is planning to debut five new models in 2023. Overall, the next Lenovo Xiaoxin Series is anticipated to place an emphasis on providing customers with value for their money. Particularly, the Air Series will place an emphasis on being slim and portable. On the other hand, the Pro Series will have an emphasis on performance and will be designed with the intention of appealing to power users. It has not been revealed what the precise features and specs of the new laptops will be, but it is anticipated that they will come pre-installed with the most recent versions of both the hardware and software.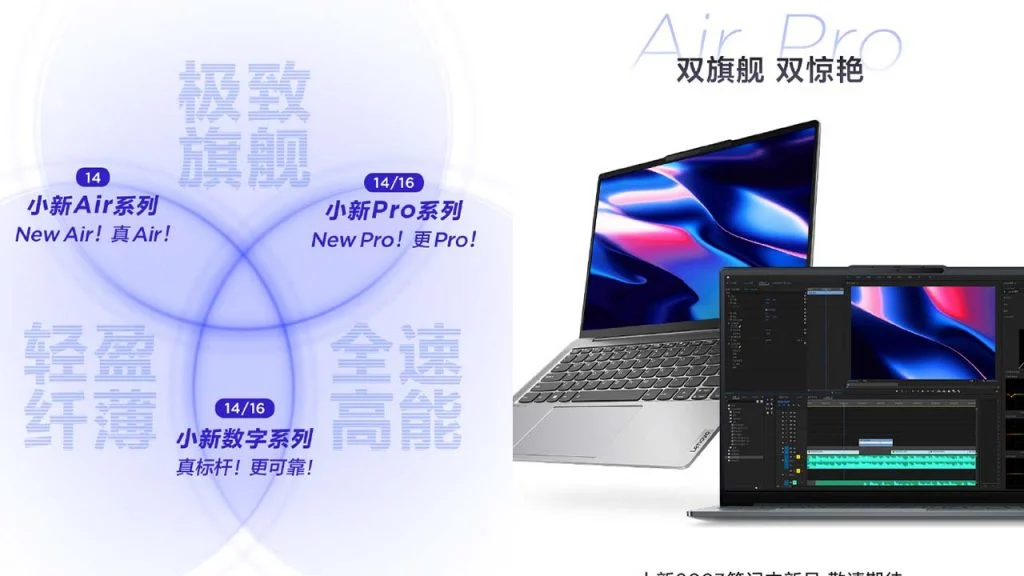 The Xiaoxin Air 14 2023 is one of the latest laptops that have already been made available to the public. This model offers a display that is 14 inches in size, has a high resolution, and has a high refresh rate. Additionally, it comes with a variety of features that are designed to protect the user's eyesight. It also boasts a large amount of memory and storage space, in addition to being powered by a robust Intel processor. Additionally, the laptop comes equipped with a high-quality camera that features a beauty mode, as well as a variety of connectivity options, such as WiFi-6E and Thunderbolt 4.
In general, it appears that Lenovo's goal with the Xiaoxin series is to provide a selection of laptops designed to cater to the needs of a wide variety of users. There is a good chance that the Xiaoxin series has a model that will meet your requirements, regardless of whether you want an affordable choice, a lightweight laptop that you can take with you everywhere you go, or a robust computer that can handle tough work.