Samsung has recently accelerated its momentum with the One UI 6 beta programme. Last month, the Galaxy S23 series, Samsung's flagship lineup, was graced with the arrival of the One UI 6 beta 2 update. The tech community has been buzzing with reports of an imminent beta 3 release, further fueling the excitement surrounding this smartphone range. Samsung appears to be redirecting its focus towards the esteemed A series, as evidenced by the recent inclusion of the Galaxy A54 in the One UI 6 beta programme.
The One UI 6 beta version is now available for users to get a sneak peek into the upcoming features and enhancements before its official stable release. This exclusive opportunity allows users to participate in the advancements and provide valuable feedback to further refine the user experience. With Samsung's commitment to delivering top-notch software updates, Galaxy A54 users can look forward to an even more seamless and intuitive interface with the forthcoming One UI 6.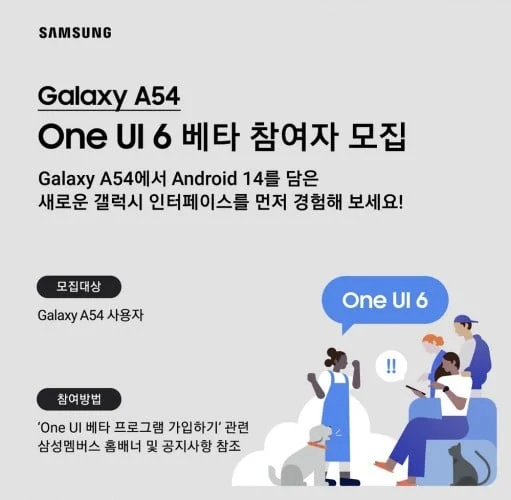 In order to partake in this exciting Samsung One 6 UI beta programme, you can effortlessly register via the Samsung Members app. Once users receive the green light on their application, they can seamlessly embark on the installation journey of the One UI 6.0 beta update. This can be accomplished by navigating the "Settings" then => "Software update" option.
The One UI 6.0 beta update has made its debut in South Korea. However, users outside of this region need not fret, as the update is poised to make its way to other regions in the coming weeks. As with any software build, users may encounter various bugs and issues that could potentially impact their overall user experience. Installing the beta update on your primary device is not a recommended course of action. If you happen to proceed with the task at hand, it is imperative that you prioritise the backup of your current data.
Some of the changes in One UI 6.0 beta
The highly One UI 6.0 Beta update brings a plethora of exciting changes that are sure to delight users. This update, packed with bug fixes and various improvements, promises to elevate the user experience to new heights.
Samsung Health has undergone a remarkable transformation, aligning itself seamlessly with the One UI Watch 5.0. The highly anticipated redesign of the Home screen has finally arrived, bringing with it a plethora of customization options for water cup settings. Users can now personalise their experience like never before.
The latest update brings with it a plethora of fixes for a range of apps and features, ensuring a smoother and more seamless user experience. Among the notable improvements are enhancements to the S Pen functionality, Repair Mode, Netflix integration, Multi-Window multitasking, and the Music Share feature. These updates aim to address any existing issues and provide users with a more optimized and enjoyable usage of their devices.