The highly anticipated next-generation Samsung flagships are slated for a grand debut in January of the upcoming year. As the launch date draws near, the tech community is abuzz with tons of leaks, offering tantalizing glimpses into the intricate hardware of these devices.
Once again, all eyes are on the highly anticipated Ultra model in the Galaxy lineup – none other than the Galaxy S24 Ultra. It is expected to make its grand entrance, the forthcoming smartphone is poised to showcase a camera system that exudes an air of clandestine sophistication.
Rumors in the tech world suggest that this device may boast an unprecedented 200-megapixel camera sensor, promising to redefine the boundaries of mobile photography. It also appears that the Zoom camera department is poised for some noteworthy enhancements. A reliable tipster has recently come forward, shedding light on a potential game-changer – a staggering 48MP telephoto lens that may grace the upcoming device.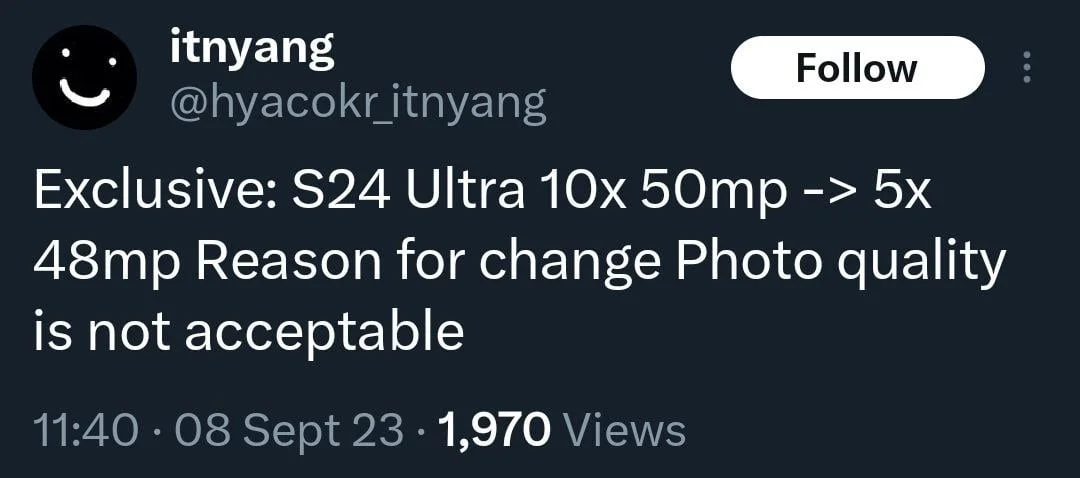 According to a renowned tech enthusiast, Tipster Itnyang (@hyacokr_itnyang), whose Twitter account seems to have vanished into thin air, the upcoming Galaxy S24 Ultra might not boast the mind-boggling camera specifications we were hoping for. Itnyang suggests that the device will feature a 48MP sensor, which, while impressive, falls short of the astronomical expectations set by its predecessors. Additionally, the zoom capabilities are said to be limited to a 5x magnification, leaving some photography enthusiasts yearning for more. According to a reliable source, it appears that Samsung had initially intended to incorporate a remarkable 50MP sensor accompanied by an impressive 10x zoom capability. However, it seems that the company has made a strategic decision to deviate from these plans, primarily driven by concerns surrounding the overall image quality.
According to a recent leak, renowned tipster Ice Universe has revealed some exciting details about the upcoming Samsung Galaxy S24 Ultra. It appears the S24 Ultra will boast an impressive 50MP telephoto camera, accompanied by a remarkable 3x optical zoom capability. This leaked information has undoubtedly sparked curiosity and anticipation among tech enthusiasts and photography fans alike. As we eagerly await the official announcement from Samsung, it's clear that the Galaxy S24 Ultra is shaping up to be a game-changer in the world of smartphone photography. Stay tuned for more updates on this exciting device.