Tecno, the renowned tech giant, is poised to make its grand entrance into the ever-expanding market of clamshell foldable phones. In an exciting development, the renowned brand has officially unveiled the highly anticipated launch date for their latest innovation, the Phantom V Flip. Stay tuned for more updates on this groundbreaking release!
This forthcoming offering from the company may go head-to-head with the likes of Samsung, Motorola, OPPO, and other prominent players in the market who have already introduced their own foldable flip phones. As a quick reminder, earlier this year, Tecno unveiled the Phantom Fold V. The Tecno Phantom V Flip has been making waves in the tech community, with leaks and rumors providing us with a sneak peek into its impressive features prior to its official launch.
Tecno is all set to unveil its latest innovation, the highly anticipated Phantom V Flip. Mark your calendars for September 22, as Singapore becomes the epicenter of this groundbreaking launch event. With its sleek design, the Phantom V Flip is poised to revolutionize the smartphone industry. The event is scheduled to kick off promptly at 3 pm, adhering to the local time zone. According to the company, their forthcoming clamshell device is a testament to their unwavering dedication in pushing the boundaries of innovation.
The launch invite poster leaves much to the imagination, keeping the details of the highly anticipated Phantom V Flip shrouded in secrecy. However, based on our astute observations, we can surmise that the device will boast a sleek and slender profile, embodying the epitome of modern design.
Alongside the Phantom V Flip, Tecno will also be introducing the MegaBook T1 2023 14-inch laptop. This latest addition to their impressive lineup promises to deliver an exceptional user experience, packed with innovative features and top-notch performance.
Expected details of the upcoming device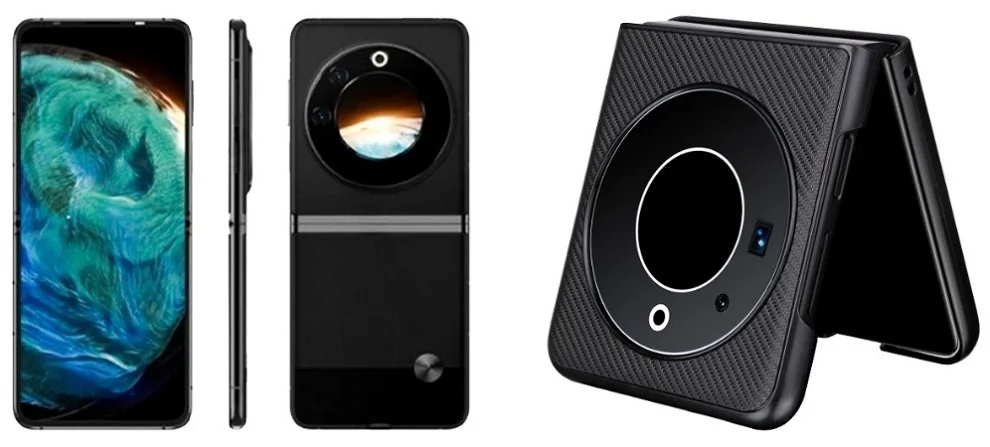 Boasting a distinctive rear panel design, this device is expected to stand out from its competitors in the market. The device boasts a sleek circular module housing two camera sensors, accompanied by a powerful LED flash unit, all neatly arranged on the outer ring. Adding to its allure, this tech marvel also sports a compact 1.39-inch secondary display nestled within its confines.
According to the listing on the Google Play Console, the upcoming device is anticipated to boast an impressive FHD+ resolution. Rumour has it that users can also look forward to a sizable 6.75-inch AMOLED display, offering vibrant visuals and a buttery-smooth experience with its remarkable 144Hz refresh rate. The forthcoming device is rumored to come packed with the Dimensity 1300 System-on-a-Chip (SoC), seamlessly integrated with a generous 8GB of RAM, ensuring lightning-fast performance. Powering this device is the latest iteration of the Android operating system, Android 13, promising a smooth and intuitive user experience.
In the latest FCC listing, it has been revealed that the highly anticipated Phantom V Flip is set to impress with its robust power capabilities. This device is rumored to boast two batteries, with capacities of 1,165mAh and 2,735mAh. This dual battery setup is designed to provide users with an extended usage time, ensuring that they can stay connected and productive throughout the day. Additionally, the Phantom V Flip is expected to support lightning-fast 45W charging, allowing for quick and convenient replenishment of battery power. With these impressive power features, this upcoming device is expected to revolutionise the way we experience mobile technology.